What Are The Responsibilities Of Boiler Engineer
Posted by:
Admin
Tags:
Boiler Engineer, Certifications and Licenses, Training and Experience
Posted date:
31-08-2022
What are the responsibilities of boiler engineer? Boiler engineers must be properly certified and educated before working on your property. This article explores what a boiler engineer does and the job requirements of a boiler engineer.
What Does a Boiler Engineer Do?
Boiler installation and maintenance are done by boiler engineers. Another name for a boiler engineer is a boiler mechanic or a boiler operator. Additionally, boiler engineers are in charge of designing, installing, and maintaining industrial boilers.
Boiler engineers may also be responsible for creating new boiler-related technologies or methods; this might range from increasing efficiency to lowering pollution.
A boiler is a closed vessel used in a heating system where a liquid - typically water - is heated to produce thermal energy. Boilers are utilised in a wide range of places, including industrial and commercial buildings, as well as governmental and residential structures.
They may operate on a variety of fuels and are often built of steel, iron, or copper. Gas boilers (methane, butane, and LPG), wood-fired boilers, coal-fired boilers, and electric boilers are among the common types of boilers.
A boiler is essentially any steam generator utilised in a nuclear power plant. Boiler engineers are in charge of boiler assembly, installation, and testing.
Boiler engineers also work on the tubes, ducts, and related equipment such as hydraulic pumps, valves, turbines, fittings, level indicators, water softeners, manometers, thermometers, and thermostats. They might also be used in conjunction with other equipment and devices such as air conditioners and heat exchangers.
Why Should I Hire a Gas Safe Engineer?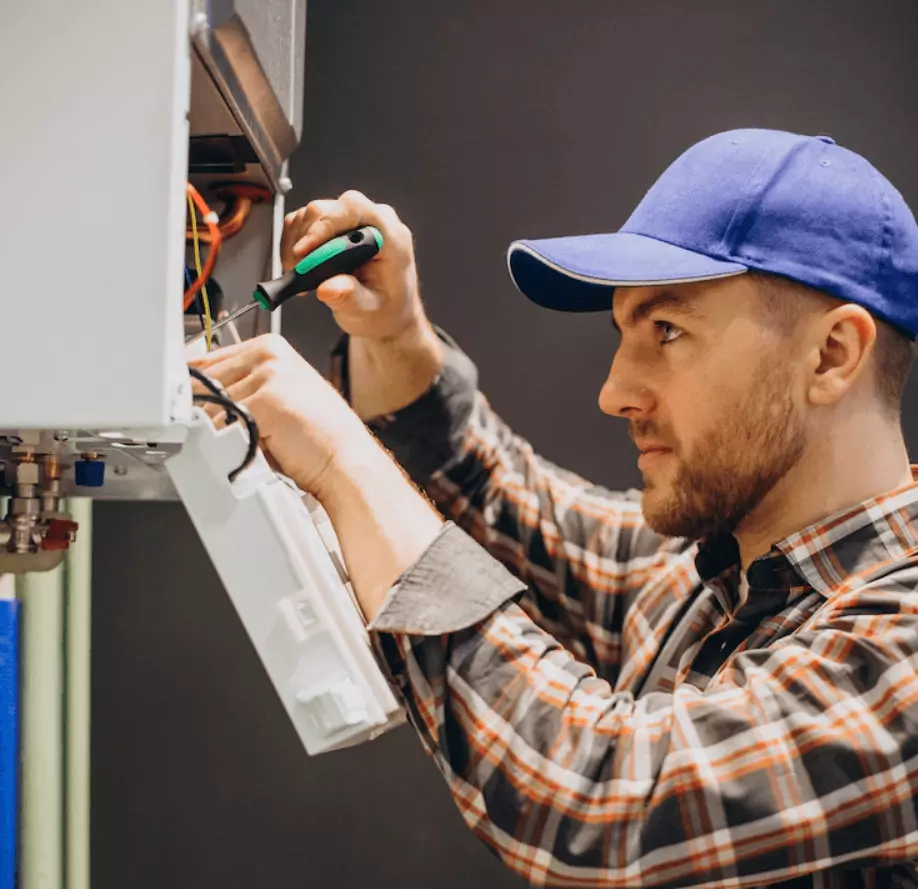 Boiler engineers are also in charge of maintaining boilers and doing routine maintenance. Checking heating systems for efficiency, cleaning tubes, pipes, and ducts, removing any deposits that may have formed (scale and corrosion products), leak testing valves and gaskets, ensuring thermostats and all measurement and control devices are working properly, and measuring combustion emissions are all part of the job.
They also do maintenance in the case of a failure or malfunction, to promptly resume normal functioning. This includes examining the faulty system with diagnostic tools to determine the cause of the problem, replacing any damaged or worn parts, and lastly, completing tests to ensure that the problem has been properly fixed.
To do their jobs well, boiler engineers must be able to use a variety of tools and equipment, such as soldering and welding instruments, pipe cutters and benders, pipe wrenches, riveting machines, and pipe threaders. The activities and working conditions of a boiler engineer can be hazardous at times, especially owing to the high temperatures that may be present.
To safeguard their safety, boiler engineers should always wear personal protective equipment such as gloves, masks, helmets, and safety boots, as well as observe all essential workplace safety protocols and regulations. Boiler engineers can work for a variety of industries, including boiler installation and maintenance companies, boiler manufacturers, and building and renovation enterprises.
They might also work as a boiler maintenance engineer at a thermal power station or industrial heating plant, or they could start their own business offering technical support and emergency call-out services for boilers and water heaters to private clients. Both industrial and household boiler experts are regularly needed to go to clients' sites to perform boiler installation and maintenance services.
A boiler engineer's working hours might vary greatly. Employees in the industrial sector are frequently expected to work on a rotating 2 or 3-shift schedule, which may encompass nights and weekends in the case of continuous manufacturing facilities, whereas boiler engineers working for private clients generally have set working hours.
However, in all circumstances, a certain level of flexibility and readiness to work extra is essential due to the requirement to react to emergency call-outs for boiler breakdowns and repairs.
What is a Boiler Engineer Responsible for?
Installing and testing boilers along with heating and water systems is the responsibility of boiler engineers. Additionally, they are in charge of maintaining heating and hot water systems and reacting to faults and breakdowns.
Boiler engineers are also responsible for doing failure analyses on systems to identify the root of a problem. Along with assessing repaired systems to ensure that functionality has been restored, boiler engineers are also responsible for doing repairs and restoring a system's functioning.
Regarding clients, the boiler engineer has various obligations to fulfil concerning contract administration, including providing directions to the contractor, valuing the works, issuing certifications and payment schedules, managing deviations, settling disputes, and generally ensuring the contract as granted is followed.
Boiler Engineer Job Requirements
Education

A boiler engineer typically needs a high school diploma or a General Education Diploma (GED). Some boiler engineers pursue a two-year associate's degree in heating, air conditioning, and refrigeration technology. With this degree, boiler engineers will have a strong foundation in refrigeration, air conditioning, and heating theory.

Training and Experience

The majority of boiler engineers' education will take place while they are still in school. Students will learn about the many components of a boiler, as well as how to troubleshoot and maintain them.
They will also learn about safety practices and how to operate with the various chemicals and materials. Once employed, a boiler engineer will undergo on-the-job training from their supervisor. This training will address the company's unique processes and safety standards, as well as acquaint the boiler engineer with the equipment with which they will be working.

Certifications and Licenses
Several certificates are available to boiler engineers to demonstrate their proficiency in the area. Boiler engineers must understand hydraulics, thermodynamics, fluid dynamics, mechanics, and electrical engineering, as well as the materials, procedures, and tools utilised in boiler design and maintenance.
To attain the requisite skills and knowledge for the job, prospective boiler engineers should get a technical/vocational certificate or a degree in an engineering discipline (especially hydraulic engineering). Some nations require boiler engineers to earn a boiler operator licence before practising. Obtaining a licence usually entails finishing an apprenticeship or training programme and then passing a written and practical test.
Some licencing regimes have different licence classes based on the size and kind of equipment that the licenced engineer is legally allowed to operate. Boiler engineers may also be needed to receive a particular certification or permission to operate in certain situations or conditions, such as chemical factories, places with poisonous compounds, or positions that require them to work at height.

Boiler Engineer Skills
Technical abilities are used by boiler engineers to read and comprehend technical documentation like as blueprints, schematics, and diagrams. Technical abilities are often used to troubleshoot and repair machines and equipment. Boiler engineers often interact with other engineers, management, and clients.
They also engage with suppliers and contractors to ensure that everyone is on the same page in terms of demands and expectations. Successful communication skills may assist boiler engineers in explaining technical knowledge to non-engineers and in developing effective problem-solving solutions. Boiler engineers frequently collaborate with other engineers and personnel to solve problems that develop during boiler installation or maintenance.
They may also collaborate with other experts to tackle problems that develop during the design of a new boiler system. Problem-solving abilities can assist them in resolving these challenges and ensuring the safety of those working with them and others who utilise the equipment. Boiler engineers frequently work in groups with other engineers and technicians, and they may also be in charge of other personnel.
Leadership abilities may assist you in motivating and directing others to perform tasks and achieve goals. Collaboration is a key aspect of a boiler engineer's profession. Boiler engineers frequently collaborate with other engineers, technicians, and other specialists to guarantee the appropriate operation of a boiler system. They also work with clients to assist them in learning how to operate and maintain their boiler system.
Do you need a boiler engineer in East London?
Contact us for plumbing and heating services in Docklands, Waltham Forest, Tower Hamlets, Lewisham, Newham, Hackney, Southwark or Greenwich.